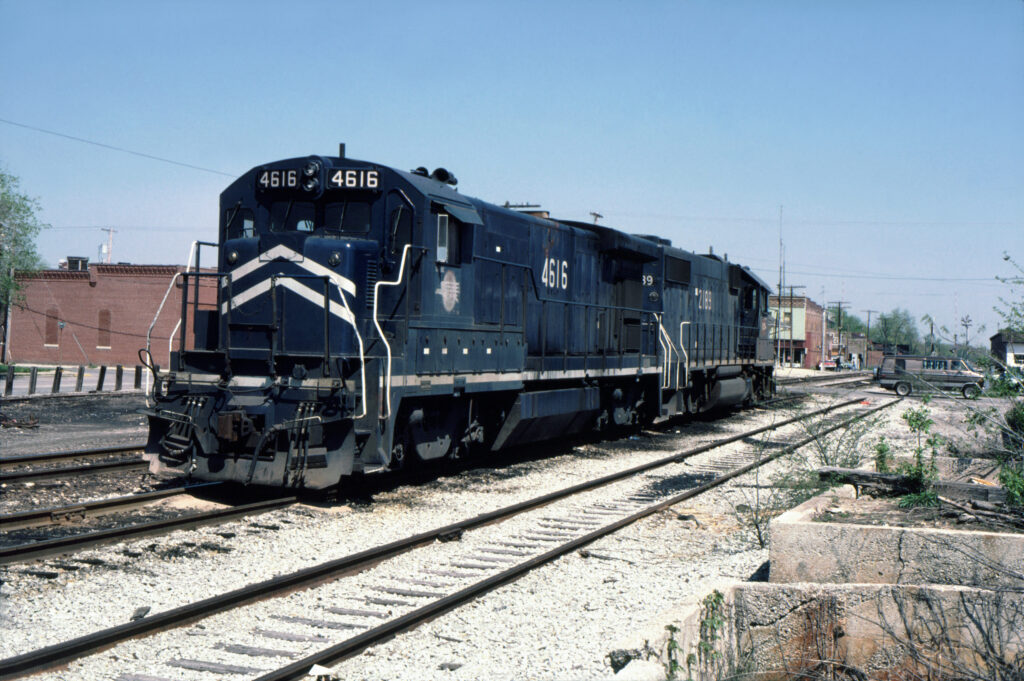 June has arrived. I have finally reached a decision on which section of the layout I will start on. In case you haven't perused the site lately…the photos are now showcasing West Frankfort, IL, and the various places where the motive power was stored while not in use. The layout will be built as a modular style of layout; with three levels. Staging will be the lowest level. It will include Benton Junction; and Joppa on the north and south ends; respectively. The second deck will be West Frankfort to Jenkins Siding. The third level will be the Buckhorn Industrial Branch. If you read last month, I was leaning towards West Frankfort. I have made the leap. It WILL be West Frankfort. No more deviation.
The downtown area of West Frankfort has an interesting facade during the 1980's. Fortunately, there are enough buildings made in HO scale that resemble these buildings; but I will have to build a few from scratch. I will animate the layout a bit with some automobile traffic on Main Street using the Magnorail system. This includes my Dad's Ford Pinto making a u-turn out of frustration when the MP Buckhorn Mine Switcher (Train 409) blocks Main Street with coal hoppers; as it builds a train of empties to take to the mines. This ritual took place 7 days a week at West Frankfort during the 1970's and early 1980's…before the mines all shut down on the ex-C&EI. I spent many June days of my youth watching the action while sitting on my bicycle with friend Alex Batts…who lived near the tracks on North Emma Street. I have long wanted to re-create this scene because of the place it holds in my memories of youth; my late Parents; my late Brother; and small town USA to me. It doesn't get any better that this!
I can't say for certain that I will even attempt the southern half of the layout. While my health continues to improve; and I plan on going back to work for five more years…and add to my retirement; I must realize that I am a solo operator. I need to be realistic about the amount of time required to maintain such a layout after it's operational. The operation of a layout that encompasses Benton; West Frankfort; Johnston City; Marion; Neilson; Karnak; and Joppa is immense. I can't say that I won't build the whole thing…but I am now entertaining building the sections of this preliminary layout to SCALE when I have the available to space to expand in 5 years or so. It would be really neat to run prototype-length trains of Bethlehem Steel quad hoppers with 4-5 engines and NOT have a 75-car coal train occupying two towns at once (when they are supposed to be five miles apart)!!! I think that 75 cars is about the limit to what I would run. 50 cars is more likely. I take inspiration from guys like Lance Mindheim and Bob Perrin.
The header photo of this month's blog shows a GE B23-7 at West Frankfort in the early 1980's. GE's were somewhat common on the MP after their purchases in the mid and late 1970's. My hope is that Rapido Trains continues their GE series with these engines in the near future. I would put these on the short list of my engine fleet if they become available. Otherwise, I have what I need. I am continuing the plans on the Sedalia Caboose as well. I will keep purchasing ExactRail quad hoppers for the near future. I have the new Bluford Cabooses…as well. I don't really need them…but, hey; they're MoPac.
I am getting ready for the STL RPM meet this year. I hope to see some new products that I can use…but if not; I'll just go and check out the stuff; see some old friends; and head for the hills.
Until next month.